Fáilte go Emei Qi Gong Ireland
My name is Ann Keenaghan. Below, I will tell you a little more about myself and how I came to meet Master Shaofan Zhu, Qi Gong Master Instructor, while on a flight to China to visit my son, in 2017. I came to realise this man is an anam cara, which is the Irish for soul friend.
Emei Qi Gong is an ancient practice that was kept alive by the monks living on Emei Mountain in China. This mountain is also known as The Golden Summit and it is one of the most sacred sites in China. The monks also kept the practice of Taoist meditation alive, when both it and the practice of Qi Gong were banned by the government.
The plan to bring Master Shaofan to Ireland to teach was not made over the phone or via zoom but it was literaly made, following a 'chance' meeting in the sky, on that long distance flight to China in 2017.
I am originally from Donegal, but I now live in Spiddal, a beautiful and sacred space in the heart of the Gaeltacht area in Connemara. The term Gaeltacht refers to all districts where the Irish language is still the first spoken language. Irish is one of the oldest written and historical languages in Europe, a thousand years older than English. It was first seen in Ogham form in the 5th century. Irish was spoken all over Ireland until the 1800 s, when Irish people were pressurised to speak English as a first language. Thankfully the Irish language has survived. Tír gan teanga, tír gan anam is an old Irish saying. It means a country without a language is a country without a soul.
It is no co-incidence that it was to a Gaeltacht area, an area rich in heritage, wisdom and culture that Master Shaofan came to share the ancient wisdom and practices from the East. Gratitude and blessings to both the monks from Emei in China and the people of the Gaeltacht in Ireland for keeping our ancient practices and wisdom alive.
"Soir gach siar faoi dheireadh thiar" Translation East is West when you are far enough West.
Tabharfaidh mé níos mó eolas fúm féin agus an chaoi ar chuir mé aithne ar Shaofan Zhu, Máistir í Qi Gong, nuair a bhí mé ar eitleán go dtí an tSín, le cuairt a thabhairt ar mo mhac i 2017. Tar éis labhairt leis an Máistir Shaofan ar feadh tamaill ar an turas fhada, thuig mé gur anam cara a bhí ann.
Is cleachta seanda é Emei Qi Gong. Is iad na manaigh a choinnigh beo é mar cleachtadh ar Sliabh Emei, an Sliabh Órga, suíomh naofa sa tSín. Choinnigh siad Taoism beo freisin ag am nuair nach raibh siad ceadaithe ag an rialtas.
Is thuas ins na néalta ar an turas fada a rinne mé an cinneadh cuireadh a thabhairt don Máistir Shaofan a theacht go hÉireann. Ní ar an fón ná zoom a bhí an cinneadh déanta.
Rugadh agus tógadh mé i nDún na nGall ach anois tá mé i mo chónaí sa Spidéal, áit álainn, naofa é i gcroí lár Chonamara. Ceantair ina labhraítear Gaeilge go nádurtha iontu, tugtar an Gaeltacht orthu. Is í an Ghaeilge an teanga is ársa san Eorpa. Chonacthas scríobha den chéad uair in Ogham é sa cúigiú haois. Bhí an teanga á labhairt ar fud na hÉireann go dtí an t-ochtú aois déag nuair a cuireadh bac í a labhairt. Ní aon comhtharlú é gur go dtí an Gaeltacht a tháinig an Máistir Shaofan, ar dtús, áit an-sabhair í maidir lenár ndúchas, ar gcultúr agus ar n-eagna. "Tír gan teanga, tír gan anam"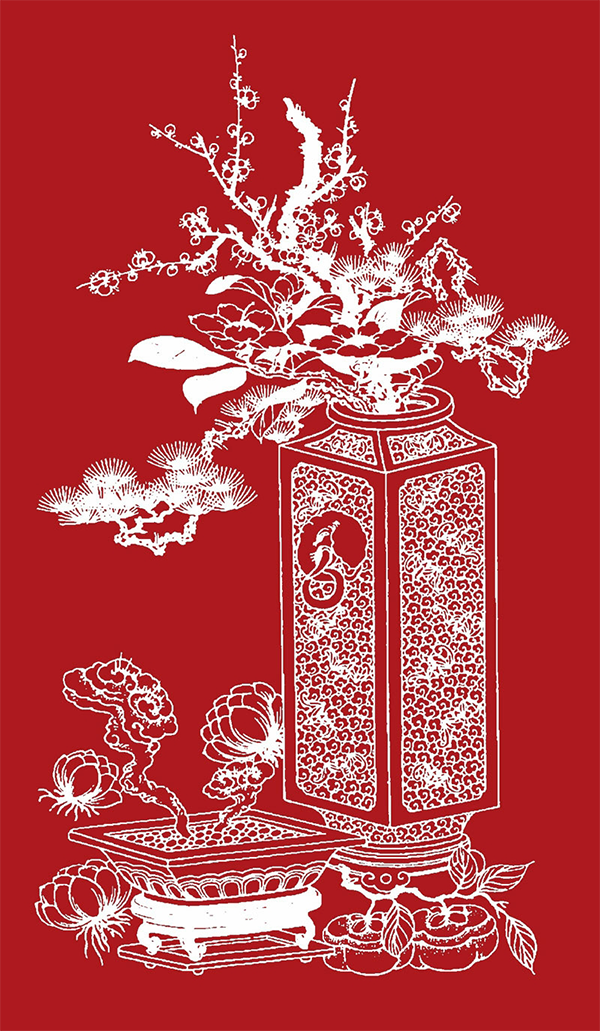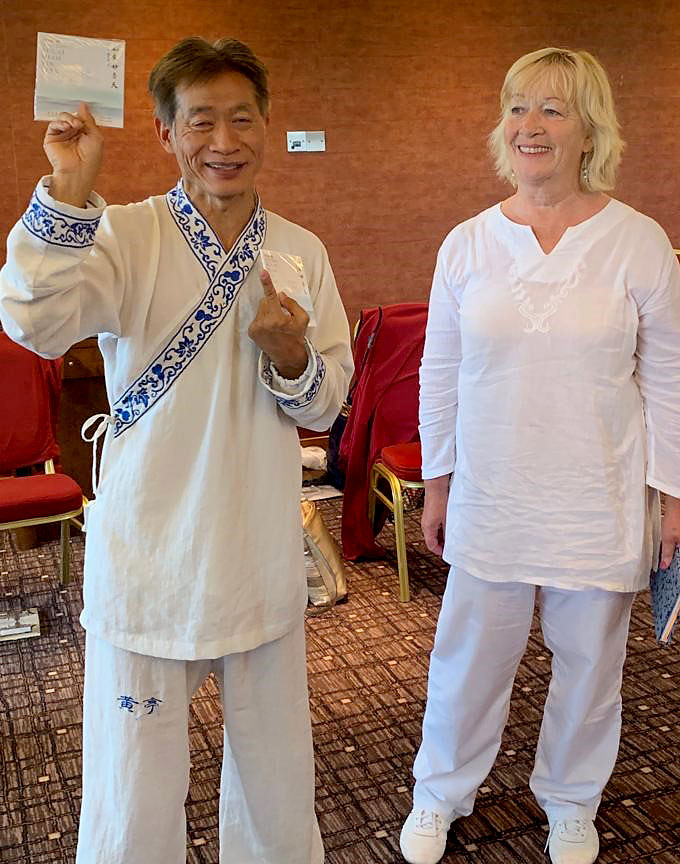 How Emei Qi Gong came to Ireland
As mentioned above, I was on a flight to China to visit my son when I met Master Shaofan Zhu. I was to fly from Dublin to Switzerland and then take a connecting flight to China. However, in error, as it appeared to be at the time, I was booked on the flight out of Switzerland for the following day. I boarded the flight and found myself seated next to Master Shaofan. We nodded to each other and then started watching inflight movies. I kept being drawn to a green stone on a bracelet he was wearing and each time wondered which crystal it was. Eventually, after several hours I excused myself and asked the significance of the stone. Master Shaofan informed me it was Jade. It was lighter green than the jade I had seen previously in New Zealand. He told me it was considered the most powerful stone in China and he spoke about the energy of the stone. I told him I worked as an energy healer and teacher/trainer of Integrated Energy therapy in Ireland and that I was also a professional Kinesiologist (see www.annkeenaghan.com). He in turn informed me that he was a doctor and a Master Instructor of Qi Gong and Taoist meditation. I knew something was beginning to unfold at that moment. I felt an excitement and enthusiasm to know more.
I had been holding meditation evenings once a week and from my experience people were getting wonderful benefit from taking time in stillness, time to restore and time to allow divine energy healing and guidance to come in. Master Shaofan explained that the practice Shen Zhan Gong, a 12 movement practice that he teaches to people new to Qi Gong, is one that brings the mind in "so the soul can communicate with it". Each movement is long and slow and has a specific health benefit for the body. As one practices one pays attention to the body, so the movement is mindful and not only nourishes the body, the organs and blood but also stills the mind. I wanted to know more.
In my experience, most people find meditation such a challenge and some dismiss it, because the mind in todays world is constantly busy, with constant stimulation and information overload. Master Shaofan has been living in Switzerland for many years now (see chinawushu.ch). When we met, he was on his way to China to speak at a conference and share research that had been carried out on the medical benefits of Qi Gong and meditation.
Modern Science is now meeting and acknowledging the benefits of Ancient wisdom and practices.
Master Shaofan left me his card and as we parted he said "I will come to Ireland and we will practice Qi Gong on Inis Mór in Co Galway."
To learn more about his connection with Inis Mór and about Master Shaofan himself and the 3 day training events in Ireland just click on the heading Training. For information on local classes in Galway and workshops in Galway or other areas, led by myself, click on the heading Classes. You can alternatively contact me on 0876265613 or email anntkeenaghan@yahoo.com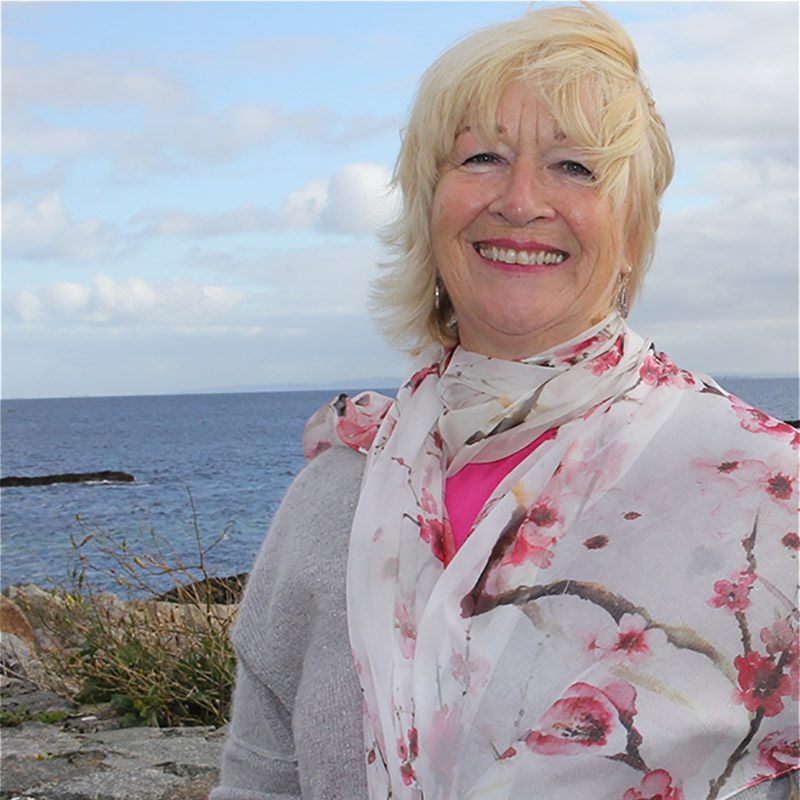 Integrated Energy therapy certified training ( For personal or professional use)
Meditation evenings
Qi Gong weekly classes/workshops
Healing with Angel days, or evenings via Zoom
How to purchase my Angel healing meditation
kinesiology